Lee Stafford and his fiance were turned away from a Grimes, Iowa wedding venue because they are gay. Betty Odgaard, owner of Gortz Haus, the venue where they had hoped to wed, says she denied them based on religious principles. She is a Mennonite.
KCCI reports: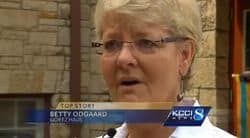 "Can I have my beliefs without being ostracized for that? I think I have my right too, and to stand firm my convictions and beliefs," said Odgaard.
Stafford said he has a new location for his wedding and said rejection hurts, but he will not let it affect his wedding.
"We are going to find some people that are still going to be reluctant to embrace us. That is just going to happen," said Stafford.
Stafford said he plans to pursue his case with the Iowa Civil Rights Commission.
Watch KCCI's report, AFTER THE JUMP…