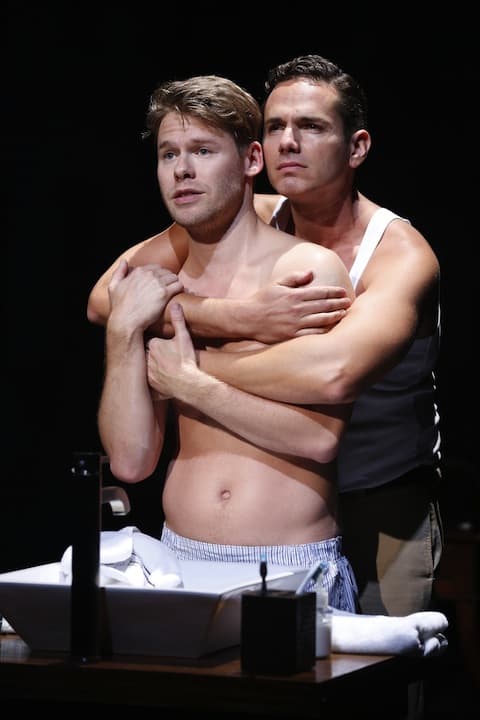 BY NAVEEN KUMAR
Harbor, a
topical yet formulaic new play about a gay married couple whose placid lives
are shaken up by a surprise family visit, opened Off Broadway Tuesday at
Primary Stages.
Written by Chad Beguelin, primarily known for his work as a
lyricist and musical book writer (Elf,
The Wedding Singer), Harbor takes
a post-DOMA look at one couple's decision whether or not to raise children, and
ultimately questions what makes for lasting family ties.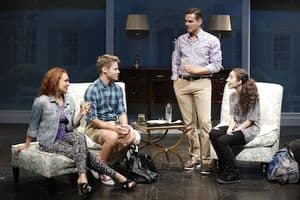 Ted (Paul Anthony Stewart) and Kevin (Randy Harrison) live
comfortably in Sag Harbor—Ted the mature breadwinner and Kevin the younger,
stay-at-home unpublished writer. Meanwhile, Kevin's estranged sister Donna (Erin Cummings)
and her daughter Lottie (Alexis Molnar) live out of their van, Donna acting
more like a rebellious teen and Lottie like the responsible guardian.
When the two show up at Ted and Kevin's out of the blue, Donna's
seemingly innocent question about whether they want kids sets Ted off on a rant
about the pressures to start a family. Kevin tries to put out the flames, and
half-heartedly agrees that they don't want kids. By the end of the first scene,
Donna reveals (much to Lottie's dismay) that she's expecting.
What begins as an overnight visit turns into something of an
extended stay—the palpable culture clash giving way as Kevin and Donna fall
back into their brother-sister routine, and Ted and Lottie bond over their
knack for acting rational.
Serviceably directed by Mark Lamos, Beguelin's play is at
times touching, thoughtful and quite funny. Though ultimately Harbor rarely pushes very far beyond the
stereotypes that prescribe its characters, or the formulas that dictate their
relationships.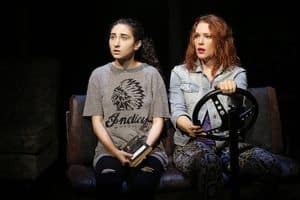 Along with other gay stereotypes traded on in the script (eg
Ted's knack for interior design and weakness for Barney's), Ted and Kevin's
keeper-and-kept relationship is a well-worn dynamic in popular depictions of
gay characters (one Harrison memorably spent years playing on Queer as Folk). Donna and Lottie's
mother-daughter role reversal feels similarly prescriptive and familiar.
When the two pairs come together—the couple with a palatial
home but no children or uterus between them, and the mother-daughter with no
home and one on the way—the ensuing plot turns into a sort of human math
problem.
The ensemble add color to Beguelin's otherwise somewhat bluntly
drawn characters. Harrison warms up and settles into his performance as Kevin
once the arrival of his on-stage sis tousles his character's Sag Harbor
exterior. Cummings navigates Donna's shifting exterior and careful
manipulations with ease, while Stewart lends heart to boozy businessman Ted. As
Lottie, Molnar's brainy and misunderstood teenager is definitely the one worth
rooting for.
That the relationships explored in Harbor aren't wildly original isn't really a problem—they're
familiar for a reason—but Beguelin's characters rarely surpass or surprise the
expectations they set up from the outset.
Recent theatre features…
'A Kid Like Jake' Opens Off Broadway at LCT3: REVIEW
2013 Tony Awards Round-Up: Drag Queens, Pioneer Women, and Mike Tyson
'Far From Heaven' Opens Off Broadway: REVIEW
Place Your Bets: 2013 Tony Awards Predictions
A Closer Look at the Chosen and the Snubbed in This Year's Tony Award Nominations

Follow Naveen Kumar on Twitter: @Mr_NaveenKumar (photos:carol rosegg)