Hawaii Governor Neil Abercrombie told a group of Democratic leaders in the state that it's "very likely" he will call a special session this fall to try and pass marriage equality, the Washington Post reports: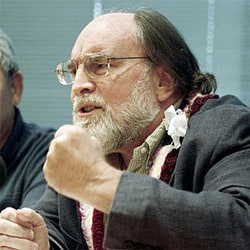 "I think we can put together something that can achieve a solid majority, that will give us the opportunity to establish marriage equity in the state of Hawaii commensurate with the recent Supreme Court decisions, and will satisfy and resolve the issues that are presently before the appeals court on the mainland," Abercrombie told a gathering of state Democrats.
Abercrombie's chief of staff, Blake Oshiro, is working on language with the state attorney general's office, the Star-Advertiser reported Monday. State Senate leadership says they have the votes to pass a same-sex marriage bill.
Democrats have majorities in both legislatures but not by the 2/3 margin needed to call a special session, so that is up to the governor.
In February, Hawaii House leaders did not call a marriage equality bill up for a vote, saying that there were not the votes to pass it. In August 2012, a federal judge held up the state's ban on same-sex marriage under rational basis review.
Hawaii legalized same-sex civil unions in 2011 and they went into effect in January 2012.