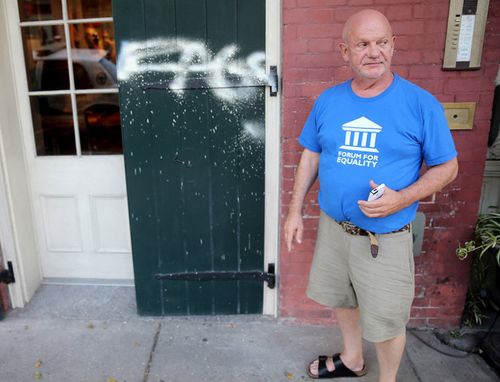 (via michael democker times picayune)
Video of an early morning hate crime being committed against John Hill and John Weimer, Jr., two prominent New Orleans gay activists, was caught on surveillance camera on Saturday. A man stole the Pride flag from in front of their historic district home and sprayed "fags" on their front door. Hill is the chairman of Louisiana's Forum for Equality, an LGBT rights organization. Police are seeking assistance in identifying the perpetrator.
The Times Picayune reports:
The video, filmed from a neighboring gallery, shows a van parking directly in front of Hill's townhouse in historic Julia Row, in the 600 block of Julia Street. A man emerges, walks to the rear of the van and pulls down a ladder. He walks to the sidewalk, sets the ladder in place, climbs up it and tears the flag from Hill's second-story balcony. He puts the flag and the ladder in the van.
Then, instead of leaving, the man re-emerges holding a can of spray paint. He sprays an anti-gay slur on a shutter before getting back in the van and driving away.
Hill and Weimer are undaunted by the attacks and have replaced the stolen Pride flag with two new ones.
Said Hill to FOX8: "I thought what an idiot. He thinks he's intimidating me, well, you got the wrong gay fella. I'm just doubling down now."
Watch a report from NOLA's FOX8 and the surveillance footage, AFTER THE JUMP…
(via kenneth in the 212)
FOX 8 WVUE New Orleans News, Weather, Sports
And here's the raw surveillance footage: