21 individuals, three organizations, one sports team, and one corporation were among those honored Friday night in Chicago as the first inductees to the National Gay and Lesbian Sports Hall of Fame. The events, according to CBS News, included "a dinner Friday night to honor the inductees at a ceremony at the Center on Halsted and an event on Saturday at Wrigley Field called 'Out at Wrigley,' which organizers says is the largest "Gay Day' at a major league sporting event."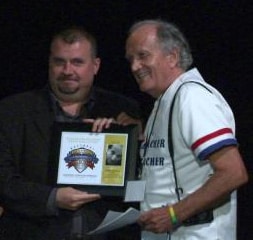 Among those inducted was Dave Pallone, who umpired the first night game at Wrigley Field.
Said Pallone, via the AP:
"It is a tremendous honor and … I hope it gives young people and adults alike who happen to be LGBT and want to be in professional sports another example of why they should continue to strive for their dreams," Pallone said.
Pallone also spoke out about the situation in Russia: "The Olympic Games are for the athletes, not for political or religious figures. Athletes come in all shapes and sizes, colors and orientations," said David Pallone, a former umpire in Major League Baseball. "I truly believe that the IOC should really start thinking about the athletes before they select the host cities."
The complete list of the organization's first inductees:
Gay Games, Outsports.com, Chicago Cubs, International Gay Rodeo Association (IGRA), Anheuser Busch, Chris Kluwe, Brendon Ayanbadejo, Ben Cohen, Dave Pallone, Justin Fashanu, LZ Granderson, Christina Kahrl, Dr. Tom Waddell, Chuck Dima, Jerry Pritikin, Dave Kopay, Glenn Burke, Renee Richards, Billie, Jean King, Martina Navratilova, Greg Louganis, Patty Sheehan, Andrew Goldstein, Jason Collins, Orlando Cruz and Johnny Weir.