Lady Gaga talks ARTPOP with Just Jared: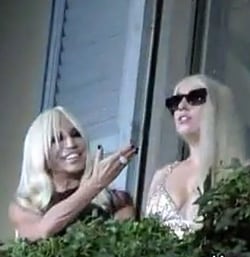 I really love the lyrics to ARTPOP, the title track of the album. "We could belong together, ARTPOP" The words seem really simple but it's through the creative experiences with my friends that we're able to create this thing that go together – art and pop. It's a reverse of what Andy Warhol began – this idea that you can take Marilyn off the canvas and put the canvas inside of her. It's in our belonging together. The album is just a metaphor for love – the love that I share with my fans…
…I really had a love affair with electronic music on this album. I started out playing in clubs, so I don't really want to leave that. I always like existing under ground and over ground at the same time. I spent a lot of my time song writing with Zedd, DJ White Shadow, Madeon. We spent a lot of time together listening to our favorite kinds of music. We made an album that we love and I certainly made a record that I'm really proud of. I know the fans will really love it because they love to dance at my shows and this will be a great live show.
She also says there's a track on her album called "Donatella", after Donatella Versace:
"…it's not so much about Donatella as a brand as it is Donatella the person, about me as a person, that idea of what the public wants from you….Donatella, maybe she's a bitch, maybe she's too skinny, maybe she's too rich, maybe she's too out there. Or, maybe she's brilliant, maybe she's intelligent, maybe she's strong, maybe she's everything, maybe she's Donatella."