Lily Tomlin says she's considering marrying her partner of more than four decades, Jane Wagner, E!'s Marc Malkin reports: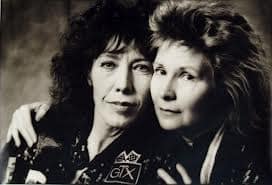 Tomlin, who turns 74 on Sept. 1, and Wagner, 78, never thought they would see same sex marriage legal in their lifetime.
"You didn't think that would happen," the 9 to 5 star said. "It's pretty remarkable…You don't really need to get married, but marriage is awfully nice. Everybody I know who got married, they say it really makes a difference. They feel very very happy about it."
The wedding would be nontraditional, Tomlin joked:
"No rings, no bridal dresses. Maybe we'll be dressed like chickens."