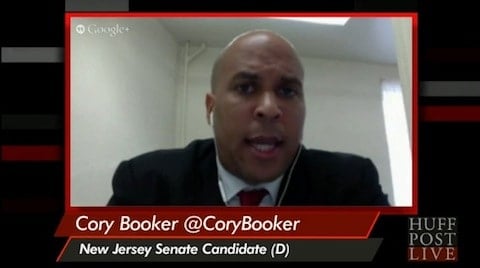 Mayor Cory Booker has taken a cagey approach to speculations about his sexual orientation, a method his GOP opponent for the U.S. Senate Steve Lonegan finds "weird:"
It's kind of weird. As a guy, I personally like being a guy. I don't know if you saw the stories last year. They've been out for quite a bit about how he likes to go out at three o'clock in the morning for a manicure and a pedicure.
So Booker is weird for not denying being gay, which means he isn't a guy, and is unmanly for enjoying good hygiene. Lonegan is all man, however, because that's what the race for a Senate seat comes down to in New Jersey: masculinity.
I have a more peculiar fetish. I like a good Scotch and a cigar.
So, in other words, he's a daddy with an oral fixation. 
After hearing Lonegan's attacks Booker responded in an interview with HuffPost Live, saying that the fixation on what a man smokes and drinks completely misses the point of what being a man in America is. He also rebukes Lonegan's attacks on gays, saying,
So that kind of callous, bigoted, disrespect to gays and lesbians — it just shouldn't be tolerated.
Booker's interview with Huff Post Live can be seen AFTER THE JUMP…