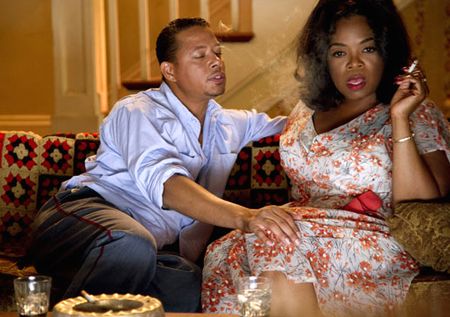 And YOU get an Oscar! and YOU get an Oscar! and YOU get an Oscar!
Somewhere in the vast middle of LEE DANIELS' THE BUTLER, a movie about a White House butler who served US Presidents from Eisenhower through Reagan, there's a terrific agitated scene in which we leave the butler behind to check in on his wife Gloria. Gloria (Oprah Winfrey) and Howard (Terrence Howard), the neighbor she's turned to from loneliness, argue on a couch. Howard is trying to sweet-talk his way back into her bed. Gloria, guilt-ridden, distracts herself with chain smoking, occasionally side-eyeing him as if he were a buzzing nuisance and — damn, where is her fly swatter?
Slick Howard begins spinning two of her clothes hangers in the air to visualize their parallel worlds. Gloria reacts with extreme annoyance to the comic pleasure of the audience — Oprah gets one laugh after another, all of them blessedly intentional, in her rousing return to the big screen. It's a weird but lively domestic hothouse scene that feels, at first, largely divorced from the movie containing it, a somewhat duller "greatest hits" tour of America's civil rights journey. But in its own peculiar way it's also the movie's key scene.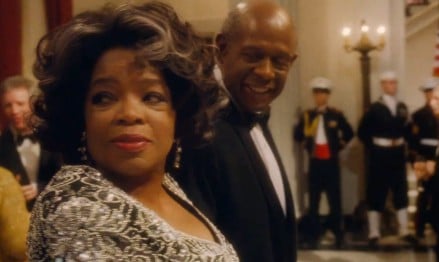 MORE AFTER THE JUMP
We're all of us living in parallel worlds that never quite synch up. That's definitely the case with Cecil Gaines (Forest Whitaker), the title servant and his own family. His wife Gloria loves him but resents that he's so married to his career. His ambitious son, Louis (rising star David Oyelowo), is ashamed of his father's place as a "Domestic" and apolitical conduct.
What's more, Cecil is living within the White Man's world but he's never truly a part of it, valued most for his invisibility in a room. It's an interesting predicament and one that rings true and resonant even in the midst of the movie's often inauthentic recreations. The parade of Presidents sometimes feels like a series of SNL sketches with famous actors guest starring as American royalty. Nevertheless Cecil's 'outside looking in' quality resonates and hurts a little.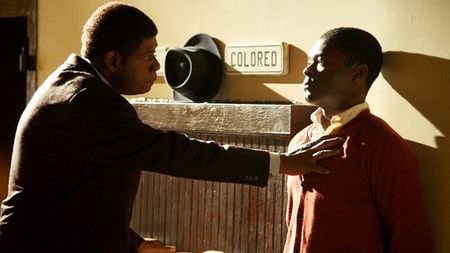 Shortly before its release The Movie Formerly Known as "The Butler" was under legal attack for its title and was eventually forced to change its name so that audiences wouldn't confuse it with the 1916 Warner Bros silent short named The Butler. (I can't even — you know how people are always mixing up those ol' one reelers with big messy talkies starring Oprah Winfrey!!!) But the strangest thing about the new title is that the movie might be the least personal of any of Lee Daniels' pictures.
The director's first three films were all recognizably the work of the same man. Though Precious was a major breakthrough and Oscar success he's also been the target of consistent scorn for the hot mess quality of his movies. The media knives really came out for The Paperboy, his slutty gothic crime film. Film critics tend to object to his movies on the basis of their crude organization, broadly rendered themes, near-constant prurience, and oddball casting. Though all of these complaints are accurate assessments, they miss the point in trying to make one. Without the weird, crude, horny, insanity a Lee Daniels movie wouldn't feel like a Lee Daniels movie at all. In daring to be unwatchable they're sometimes supremely watchable!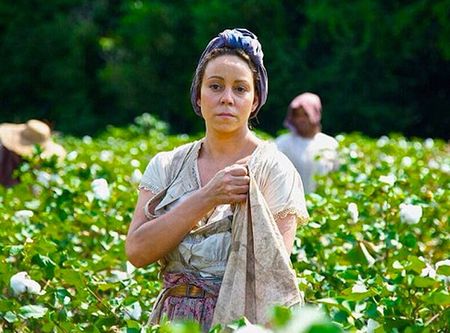 Yes, Mariah Carey's in this one, too. Lee Daniels can't help himself!
We have more than enough movies that are pleasant and "well made" which evaporate a week after you see them. Whatever the director's drawbacks (I personally wish his movies were a lot more disciplined and beautiful visually) he inarguably has a unique way with actors, loosening up their gifts. The performances in his movies have an unusual level of candor, idiosyncracy, humor, and sideways genius. Whatever one thinks of Precious and The Paperboy, for example, there's just no point in denying the jaw-dropping fearlessness of Mo'nique and Nicole Kidman in them. Here in The Butler this gift serves Daniels especially well with Oprah who commands every scene with the skill of a professional actor and the abandon of a novice who doesn't know the camera's on. Watching Oprah boogie in a crocheted disco suit is worth the ticket purchase alone. Though Forest Whitaker's character is too staid to be very interesting on his own and saddled with tired 'let me state the obvious…and repeatedly' narration, the picture is filled with personalities that add welcome flavor. (Yaya Dacosta is terrifically self-satisfied as a bitchy Black Panther, Isaac White is endearingly playful as the youngest son, and Cuba Gooding Jr and Lenny Kravitz counterbalance Whitaker's stillness well in the White House.) 
Despite compelling details, Lee Daniels' The Butler plays it quite safe and thus quite unlike a Lee Daniels' picture. The result is two movies, spinning in opposite directions side by side. The one with horny bored mama Oprah and her squabbling family with different political temperaments is a real good time. The other one has its heart in the right place (People get fussy about the repetition but it bears repeating: America seriously has ISSUES with racism) but is often not much more than an African-American Oscar-baiting cousin to Cavalcade (1933) and Forrest Gump (1994), two wildly overrated "Best Pictures" for White People in which the cypher protagonists drift through Important Historical Signposts for your edification.
Nathaniel Rogers would live in the movie theater but for the poor internet reception. He blogs daily at the Film Experience. Follow him on Twitter @nathanielr.