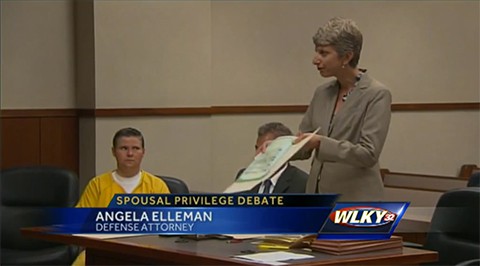 Kentucky is in a bit of a quandary over same-sex marriage thanks to a high-profile murder case involving a lesbian (the accused in the case) and her spouse. As Joe.My.God points out, the state's constitutional ban on same-sex marriage is coming under fire because of spousal privilege:
A legal debate over whether one member of a same-sex couple has spousal privilege that would shield her from testifying against her partner is at the heart of a capital murder case in politically conservative Kentucky. Geneva Case, 49, does not want to testify in a Louisville court against her partner, Bobbie Jo Clary, 37, who is accused of beating George Murphy, 64, to death with a hammer in 2011 and then stealing his van. Prosecutors say Case must testify because of her value as a witness, since she heard Clary admit to the slaying and also saw blood on the interior of the victim's van after the killing. Clary says Murphy used a hammer to sexually assault her, and she defended herself by hitting him over the head.
Case and Clary were joined in a civil union in Vermont in 2004. And though the immediate concern for the trial is whether Case will be forced to testify against her partner, the implications of the court's ruling on spousal privilege could have broad-ranging implications, potentially leading to an overturn of the state's ban on same-sex marriage:
Both Clary's attorney, Angela Elleman, and Case's attorney, Bryan Gatewood, said the Kentucky marriage amendment is unconstitutional and the pair should be treated like any other married couple. The attorneys also say they are cautiously optimistic that this case will lead to the amendment being held as unconstitutional, setting a precedent for change nationwide. In light of recent U.S. Supreme Court rulings on gay marriage, "the climate is right" for the Kentucky amendment to be thrown out, Elleman said. "I believe the handwriting is already on the wall," Gatewood said. He believes the Kentucky attorney general's office, which says it is reviewing the case, will find that the state law is unconstitutional under the same reasoning.
Late last month a couple came forth offering the first post-United States-v.-Windsor challenge to Kentucky's ban on same-sex marriage. It is unclear if this murder case could potentially have implications for that challenge to the state's ban.
Watch a news report on the trial from WLKY TV AFTER THE JUMP…