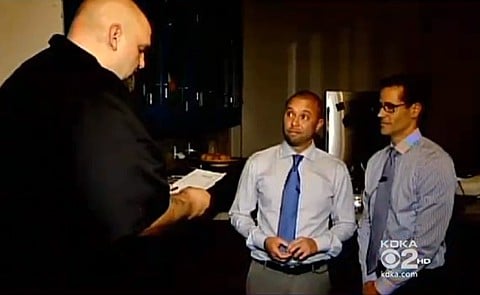 Following the lead taken by Montgomery County Clerk Bruce Hanes nearly two weeks ago, the mayor of Braddock, Pennsylvania, performed Allegheny County's first same-sex marriage last night, KDKA reports:
John Kandray and Bill Gray of Regent Square have been together for 11 years. They share a house, two dogs and what they say is a deep love for each other.
"Showing our commitment to each other," Gray said, "which we've been at that point for a long time, just now we can prove it."
When they heard that Montgomery County was issuing licenses to same-sex couples, they went across the state to get one. And then they heard Braddock Mayor John Fetterman was willing to marry them.
"I just think it's time people in Pennsylvania say, Mr. Corbett, you know, tear down this law," Fetterman said. "DOMA is a fundamentally unjust piece of legislation."
What will happen in the state in terms of recognition any time in the near future remains to be seen. More than 60 marriage licenses have been issued by Montgomery County so far, and it says it is not planning on stopping. The Pennsylvania Commonwealth Court has not yet responded to a petition from Governor Tom Corbett to stop the marriages.
Watch, AFTER THE JUMP…