The New York Post has obtained a copy of the proposal for Nick Gruber's "beyond shocking" tell-all about his life with former boyfriend Calvin Klein. Gruber, Klein's on-again-off-again boytoy, who last August was allegedly in talks to dish about Klein in a no holds barred book, has more recently had a change of heart, deciding not to move forward with the book, telling TMZ this past February, "I'm a nice person, not a mean person," even denying he ever intended to write such a book, telling Gawker's Michael Musto, "That was false information. I never said that I was gonna write a
book. I never would do something like that or hurt someone that I love." However, the book proposal attained by The Post, entitled "Obsession: My Life with Calvin Klein" seems to suggest that the book, though perhaps now defunct, was once a real entity. In particular, the proposal reveals how Gruber and Klein became entwined: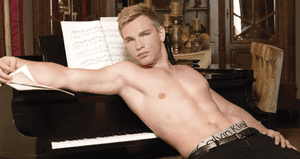 The Bronx-born fashion designer was drawn to Gruber because he looked
like a younger version of himself. According to the proposal, the
escort and the fashion icon embarked on a sexting relationship. In March
2010, Klein sent a private G4 plane — complete with a cream and beige
interior and cashmere blankets — to whisk the 19-year-old from Kansas to
New York.
Once he touched down in the Hamptons, a limo was waiting to usher Gruber to the home of Klein's ex-wife, Kelly.
There, Klein greeted Gruber at the door wearing a short-sleeve shirt and sweatpants.
"Hi, I'm Calvin, come on in."
Klein took him on a tour of the home before showing him the guest house, which was filled with lit candles and a roaring fire.
According to the proposal, the pair had an epic lovemaking session.
"Not to sound arrogant, but I really think Calvin first started to fall in love with me that night," the proposal says.
Though
the pair stayed in different beds the evening of their first encounter,
everything was about to change for both the wealthy arbiter of taste
and the unsophisticated Army boy […]
"In a scene straight out of Pygmalion, Calvin goes to work transforming
his love interest. Nick gets new clothes, a new hairstyle and teeth.
There were meetings with a steroid doctor to help him keep his lean and
pumped look. His skin was resurfaced and he even gets speech therapy to
upgrade his speaking style," according to the proposal.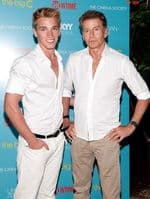 The proposal also alleges that Gruber quickly felt stifled by his relationship with Klein and after a short-lived rebellion against him, a steady abuse of cocaine and an arrest for assaulting a friend who allegedly grabbed Gruber's crotch, Gruber entered rehab:
He agreed to enter the Meadows, a posh Arizona rehab center, and
Klein, once again, was his generous benefactor. But Gruber soon realized
that nothing in life is free.
When Klein flew out to visit during
"Family Week," he took Gruber to a local motel for a sexual encounter
while on a four-hour pass.
"I really thought he was there because
he cared about me and wanted to help me," the proposal says. "But then
he checked me out of the center essentially for a booty call, and I
thought that was all he really cared about."
After completing
rehab, Gruber moved to a sober living facility. He didn't stay for long:
Klein, the proposal claims, had the staff keep tabs on him.
Former boyfriend John Luciano, who Gruber began seeing after leaving rehab, doesn't understand Gruber's about-face on the book proposal:
"The refreshing part of Nick is that he was very open about who he was
and not ashamed. To me that was one of the best parts of
Nick. I don't know who is advising him. They are trying to turn a cook
at Applebee's into a top chef at Per Se."
In addition to denying the tell-all's existence, Gruber recently announced he is straight and got into something of a PR scuffle with porn entrepeneur Michael Lucas over his protestations of heterosexuality at a party on Fire Island.