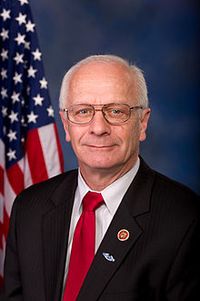 At a town hall meeting Monday, Rep. Kerry Bentivolio (R-MI) shared his fantasy scenario of being remembered as the congressman who impeached President Obama. And the only thing stopping his "dream" from becoming a reality sooner? Bentivolio says he has no concrete evidence of Obama's impeachment-worthy schemes…yet.
Mediaite reports:
Answering a question from an attendee about what Congress is doing to stop Obama "from everything he's doing against our Constitution," Bentivolio said, "You know if I could write an [impeachment] bill and submit it, it would be a dream come true…."
"I went to my office and I've had lawyers come in," Bentivolio continued. "These are lawyers, PhDs in history and I said 'tell me how I can impeach the President of the United States.'" But they advised him that he would first need some evidence.
"Until we have evidence," Bentivolio said, "you're going to become a laughing stock if you've submitted the bill to impeach the president because number one, you've got to convince the press. There are some people out there no matter what Obama does, he's still the greatest president that they have ever had. That's what you're fighting."
With delusions like this, Bentivolio seems well on his way to becoming that 'laughing stock' he mentioned…
Watch, AFTER THE JUMP…