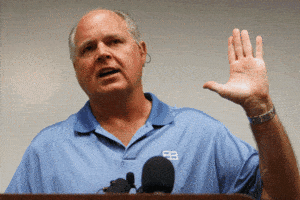 During a recent speech which announced the creation of the State Department's Office of Faith-Based Community Initiatives, John Kerry described "global climate change" as "a challenge to our responsibilities as the guardians–safe guarders of God's creation." Those comments apparently didn't sit well with the likes of Rush Limbaugh, who spoke out against Kerry's remarks on his soon-to-be-dropped radio show earlier this week:
"See, in my humble opinion, folks, if you believe in God, then intellectually you cannot believe in manmade global warming … You must be either agnostic or atheistic to believe that man controls something that he can't create."
Thankfully, ThinkProgress presented overwhelming evidence to the contrary in their report, stating that:
"In reality, millions of church-goers in the United States already recognize that the evidence for climate change is undeniable. A December 2012 survey conducted by the Public Religion Research Institute found that strong majorities of most American faith traditions agreed that the recent string of natural disasters were the result of climate change, especially among mainline protestants (65 percent) and Catholics (60 percent)."
Of course, those attempting to support Limbaugh's assertion may argue that popular opinion does not necessarily dictate the rules and teachings of any particular church. Luckily, ThinkProgress goes on:
"What's more, scores of religious institutions have responded to our shifting environment in ways that fully acknowledge humanity's role in creating the crisis. The United Methodist Church, the Presbyterian Church (USA), and the Evangelical Lutheran Church in America have all issued statements or launched initiatives aimed at acting on global warming, and the United States Council of Catholic Bishops has an entire section of their website dedicated to combating climate change and its disproportionate impact on the world's poor."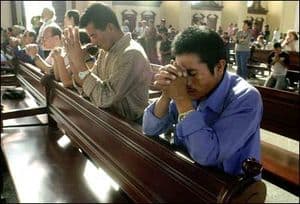 Apparently, Pope Francis even recognizes the existance of the phenomenon, and made it apparent as part of a prayer earler this year:
"Please, I would like to ask all those who have positions of responsibility in economic, political and social life, and all men and women of good will: let us be 'protectors' of creation, protectors of God's plan inscribed in nature, protectors of one another and of the environment."
Unfortunately, according to ThinkProgress, Limbaugh isn't alone in expressing this erroneous sentiment, and chronicled similar statements made by members of Congress:
"On Tuesday, Rep. Jeff Miller (R-FL) told constituents that 'It wasn't just a few years ago, what was the problem that existed? It wasn't global warming, we were gonna all be an ice cube. We're not ice cubes. Our climate will continue to change because of the way God formed the earth.' North Carolina Republican Virginia Foxx lamented that some environmentalists 'think that we, human beings, have more impact on the climate and the world than God does.' Representative John Shimkus (R-IL) told a congressional hearing: 'The earth will end only when God declares it is time to be over. Man will not destroy this earth. This earth will not be destroyed by a flood.'"
Perhaps all of these public figures should consult those sitting next to them on Sunday before speaking on behalf of their entire congregations (or religion).