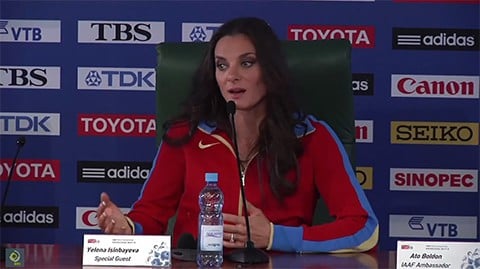 Russian pole-vaulter Yelena Isinbayeva who yesterday expressed outrage over Swedish high-jumper Emma Green Tregaro's rainbow colored nails painted to show support for LGBT Russians is today backpedaling, claiming her remarks were misconstrued on account of her poor English, The Guardian reports:
"English is not my first language and I think I may have been misunderstood when I spoke yesterday," she said.
"What I wanted to say was that people should respect the laws of other countries particularly when they are guests. But
let me make it clear I respect the views of my fellow athletes and let
me state in the strongest terms that I am opposed to any discrimination
against gay people on the grounds of their sexuality [which is against
the Olympic charter]."
Meanwhile, there is now some question as to whether Isinbayeva will be allowed to keep her position as "mayor" of one the Olympic villages at Sochi given her recent remarks. The decision to remove her from that post, however, would have to come from the IOC:
The British heptathlete Louise Hazel called for her to be removed from
that position, but the IOC will not be making any rash decisions until
clarification has been received.
"You will appreciate that English
is not her first language so we want to be absolutely clear about what
she said and if that is what she 'meant' to say before we make further
comment," a statement said.