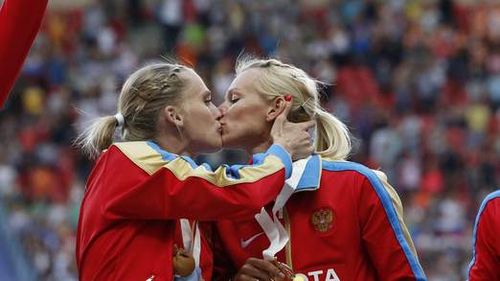 Shortly after winning gold in the women's 4×400 meter relay at the World Athletics Championships on Saturday, Russian track athletes Kseniya Ryzhova and Tatyana Firova kissed one another, setting off speculation that they had done so as a political statement, or perhaps, a personal one.
There was nothing gay about it, according to Rhyziva, the AP reports:
Kseniya Ryzhova, one of the 4 x 400-meter relay winners, said: "The storm of emotions going through us was incredible. And if we, accidentally, while congratulating each other, touched lips, excuse me. We think the whole fuss is more of a sick fantasy not grounded in anything."