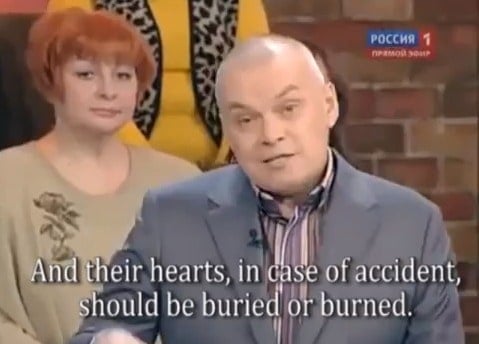 Deputy General Director of the Russian State Television and Radio Broadcasting Company, Dmitri Kisilev recently dehumanized gays on a popular, government-run television program broadcast by the state-owned network Rossiya 1.
His translated comments state, "I think that just imposing fines on gays for homosexual propaganda among teenagers is not enough. They should be banned from donating blood, sperm. And their hearts, in case of the automobile accident, should be buried in the ground or burned as unsuitable for the continuation of life."
The audience applauded after Kisilev's comments.
The New Civil Rights Movement adds that Vesti — the show where Kisilev delivered his comments — is "Rossiya 1′s top news show — which airs all across Russia every two hours," and that Kisilev has served as Deputy General Director of state broadcasting since 2008.
Regarding Rossiya 1, the BBC notes: "Russian TV is dominated by channels that are either run directly by the state or owned by companies with close links to the Kremlin. The government controls Channel One and Russia One – two of the three main federal channels… TV is the main news source for most Russians… Russia is a regular target for criticism and condemnation from media freedom watchdogs."
Watch the video, AFTER THE JUMP.
.