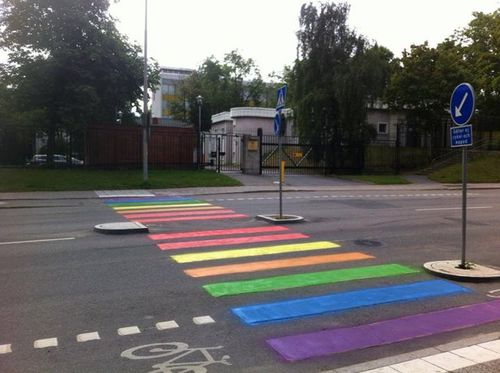 Here's what the crosswalk outside the Russian Embassy in Stockholm, Sweden looks like today, via Street Art Utopia.
The Local reports:
Gay rights supporters have painted the zebra crossing outside the Russian embassy in Stockholm in the colours of the rainbow following angry exchanges during last week's Pride festival over the country's treatment of LGBT individuals. Stockholm police have been in regular contact with the Russian headquarters since the earlier manifestations but were unaware of the latest incident.
"We have no case on it but probably it is classed as vandalism or a violation of traffic regulations," Ulf Lindgren of Stockholm police told Dagens Nyheter.
He added that the police are not responsible for restoring the walkway to its regular pattern of black and white.
"Protesting is one thing, it has to be done. But this is wrong even if the objective is something else. It can affect people who are using the zebra crossing. There's a risk it can create danger for those using the crossing as they should look a certain way. It's confusing if they are different," added Lundgren.
On Saturday a group of naked men marched back and forth across the rainbow crossing outside the embassy. One of the group took pictures but it remains unclear if they are connected with the stunt.