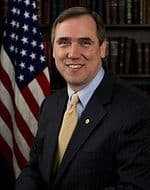 Senator Jeff Merkley will introduce a Senate resolution urging the International Olympic Committee to denounce Russia's anti-gay laws and demand guarantees that it won't be enforced during the Sochi Games, Buzzfeed reports:
The resolution will ask the IOC both to oppose the law itself and to receive a guarantee that athletes and spectators will not be discriminated against on the basis of sexual orientation or gender identity at the Sochi Winter Olympics, Merkley spokesman Jamal Raad said. The language is still being finalized, however, and he said the resolution will not be introduced formally until the Senate returns from its August recess.
The resolution would be the Senate's first formal statement regarding the Russian law, which was signed by Russian President Vladimir Putin in June.
For all our updates on the Sochi Olympics and the controversy surrounding gay athletes and the 2014 games, click HERE.
Make sure not to miss a Towleroad headline by following @TLRD on Twitter.