Rosario Crocetta, the gay governor of Sicily elected in October 2012, is winning support for taking on the mafia as he did as mayor of the small coastal town where he is from, and gets a nice profile in the Washington Post: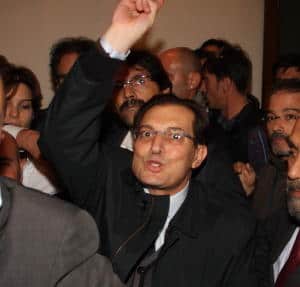 Since winning the governor's job nine months ago, Crocetta has taken his crusade island-wide, kicking a hornet's nest as he strengthens anti-mafia laws and takes aim at the cronyism, waste and corruption that turned Sicily's treasury into the gift that kept giving. But to get this far, the 62-year-old former Communist with a penchant for sea-blue spectacles first had to tackle another powerful adversary: masculine stereotypes in Italy's macho south.
"I'm homosexual, which I call a gift from God, and no, I didn't hide it one bit!" he said, dangling a lit Marlboro and rearing his head back in a raucous laugh. Talking about his successful campaign for governor, he said, "the fact that I'm here is almost inconceivable. Even I'm surprised."
To put it in perspective:
"Having Crocetta in Sicily is like having an openly gay man elected governor in Alabama," said Ivan Scalfarotto, a member of the national parliament and a Milan-based gay rights advocate. "But the most telling point is that his sexuality became a small detail for voters. This was about what he had done" against the mafia.