British actor Stephen Fry is joining calls for a relocation of the Sochi Games.
He writes on his blog, in part: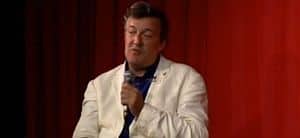 An absolute ban on the Russian Winter Olympics of 2014 on Sochi is simply essential. Stage them elsewhere in Utah, Lillyhammer, anywhere you like. At all costs Putin cannot be seen to have the approval of the civilised world.
He is making scapegoats of gay people, just as Hitler did Jews. He cannot be allowed to get away with it. I know whereof I speak. I have visited Russia, stood up to the political deputy who introduced the first of these laws, in his city of St Petersburg. I looked into the face of the man and, on camera, tried to reason with him, counter him, make him understand what he was doing. All I saw reflected back at me was what Hannah Arendt called, so memorably, "the banality of evil." A stupid man, but like so many tyrants, one with an instinct of how to exploit a disaffected people by finding scapegoats. Putin may not be quite as oafish and stupid as Deputy Milanov but his instincts are the same. He may claim that the "values" of Russia are not the "values" of the West, but this is absolutely in opposition to Peter the Great's philosophy, and against the hopes of millions of Russians, those not in the grip of that toxic mix of shaven headed thuggery and bigoted religion, those who are agonised by the rolling back of democracy and the formation of a new autocracy in the motherland that has suffered so much (and whose music, literature and drama, incidentally I love so passionately).
I am gay. I am a Jew. My mother lost over a dozen of her family to Hitler's anti-Semitism. Every time in Russia (and it is constantly) a gay teenager is forced into suicide, a lesbian "correctively" raped, gay men and women beaten to death by neo-Nazi thugs while the Russian police stand idly by, the world is diminished and I for one, weep anew at seeing history repeat itself.
Yesterday, actor and activist George Takei called for the Sochi Games to be moved.
Today, the International Olympic Committee will receive more than 300,000 signatures urging it to denounce Russia's anti-gay laws. 83 members of Congress this week called on John Kerry to clarify the U.S. State Department's position on the controversy.
Russian officials have issued conflicting statements about whether athletes and visitors to the Olympics will be prosecuted under the anti-gay laws. Thus far, the IOC has said it is standing by assurances
from the Russian government that the laws will not apply to Sochi
visitors, which does nothing to change the fact of their existence and
the human rights abuses being inflicted upon LGBT people there on a
daily basis.