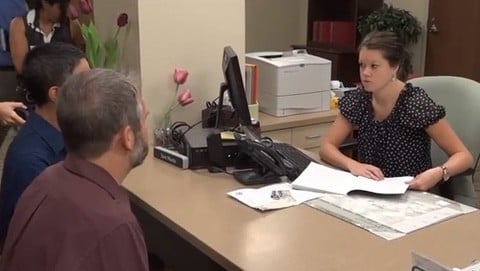 Davidson County, Tennessee couple Jeff Laudieri and Will Peyton applied for a marriage license this morning and were denied, Out and About Nashville reports. The couple has been together for nine years.
"It's important that Tennessee get on board with the other 13 states that have done this … we are at a serious economic disadvantage and a civic disadvantage for not being able to marry," Laudieri told reporters after he and Peyton were denied based on Tennessee law. "We just want the same piece of mind that every other married couple has always had and we want to do it in Tennessee where we live."
Chris Sanders, TEP Executive Director, told reporters this was a first step in the necessary court challenge to Tennessee's same-sex marriage ban. "It's going to require a court challenge. What happened today was a piece of that. This gives the couples that apply for marriage licenses, but are refused, more standing if they wish to challenge the state constitutional marriage ban in court . . . this is one part of a multi-pronged strategy to overturn Tennessee's state constitutional ban on same-sex marriage."
Watch, AFTER THE JUMP…
In more hopeful news out of the Volunteer State, Collegedale is the first city to offer benefits to same-sex spouses of government employees:
Four on the five-member commission voted to accept the new policy. Before he cast his supporting vote, Commissioner Larry Hanson said, "You don't know how lucky we are to get to vote on this."
The lone "no," Mayor John Turner, said he voted for the 74 who had reached out to him opposing the policy.
"That's what we're supposed to do as elected officials, represent the people of our district," he said.