Senator Tammy Baldwin is leading an effort by Democratic lawmakers to end the U.S. ban on gay men donating blood, Gannett reports: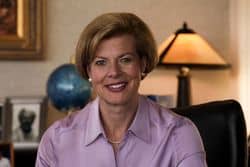 She sent a letter signed by 84 other Democratic lawmakers Friday to Health and Human Services Secretary Kathleen Sebelius expressing concern that the ban "continues to perpetuate inaccurate stereotypes against gay and bisexual men and fosters an atmosphere that promotes discrimination."
Baldwin, who is the first openly gay U.S. senator, and her colleagues are urging that blood donors be selected based on health factors and not sexual orientation.
"Our current policies turn away healthy, willing donors, even when we face serious blood shortages," they wrote.
The current policy, which prohibits blood donation by any man who has had sex with another man since 1977, was put under review by HHS in March 2012, but there has been little movement since.
Gannett adds:
It's unclear how the study is progressing or when it will be finished. An HHS spokeswoman said only that the study is "not yet complete" and that "HHS is committed to continuously improving the safety and availability of the nation's blood supply" and "is in the process of conducting additional studies to help inform our policy discussions."