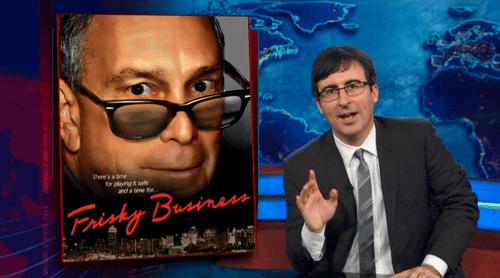 The Daily Show with Jon Stewart may still be missing its traditional host, but it certainly hasn't lost a step with regard to its mission to hilariously and aptly comment on the current state of American politics. The show's interim host, John Oliver, has already taken on the likes of Florida, France, and the Supreme Court with relative ease. In this most recent clip, his attention returns to New York City, where he takes on a series of different targets in one fell swoop. 
The segment itself centers around NYPD's "Stop and Frisk" policy, which allows police officers to temporarily detain and search anyone in the city with or without cause. In Oliver's own words:
"For years, opinion has been divided on Stop and Frisk with black and Latino residents of this city saying it's an invasion of their liberty and with white residents saying 'oh, I think I heard a thing about that on NPR'…It's basically like catch and release fishing, except you get to feel the fish up and shout at it a bit before throwing it back. Also, almost all the fish are brown."
Now, an NYC judge is declaring the policy unconstitutional, calling it "indirect racial profiling". She did not, however, mandate that the program be abandoned completely. Rather, she calls for increased oversight of the program by the federal government, and suggested the possible use of "body cameras" to assist with that task. This new combination of New York City and body cameras caused Oliver to temporarily direct his attention towards another target: Anthony "Carlos Danger" Weiner. Apparently, Weiner advocated use of said cameras even before this most recent judicial opinion.
"You heard right," said Oliver, "Weiner is suggesting body cameras facing out."
Watch the entire monologue AFTER THE JUMP…