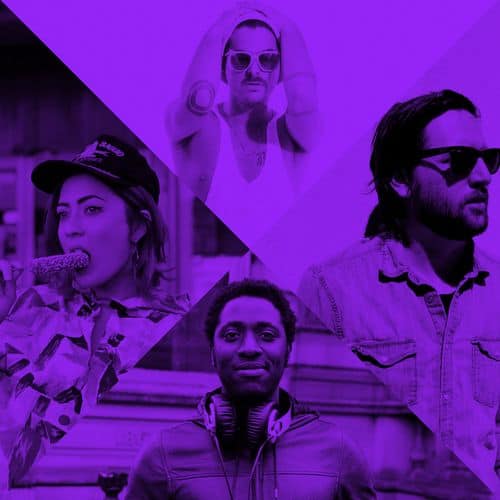 BY OCCUPY THE DISCO / JOSH APPELBAUM
The OXD Mirror is a weekly music column brought to you by the boys of OCCUPY THE DISCO (OXD), a New York City based movement created by three music lovers, Ru Bhatt, Josh Appelbaum, and Tadeu Magalhães, who want to share their love for disco, house and dance music with the world.
SPF5000: 'Make Love To Me (DJ Nita Remix)'
Self-proclaimed '25th Century Dance Band' SPF5000 aims to create funky dance music that pulls in elements from the 70s and 80s and packages them together with a modern twist.  The Boston natives, comprised of Rob Phillips, Daymeyn Gantt and vocalist Amy Douglas, have been making music for almost three years now, but are just now in the process of releasing their first EP.  'Make Love To Me' is the first single off of the unnamed EP, and it succeeds in its purpose to showcase Douglas' robust, club-appropriate vocals.  NYC-based DJ Nita Aviance (The Carry Nation), who has remixed artists like the Scissor Sisters in the past, revamps the track with his signature underground house sound.
Chela: 'Romanticise (Boys Get Hurt Remix)'
Melbourne-based singer and songwriter Chela's voice might sound familiar to OXD readers, as she has contributed vocals for a number of other nu-disco artists in the past year, including Goldroom, Viceroy and Clubfeet.  The singer has now released her own single on the renowned Kitsuné Records entitled 'Romanticise'.  Chela's vocal versatility is certainly on display in this song, and Tokyo-based DJ duo Boys Get Hurt add in their inventive take of the song, with a xylophone chimes, synths and a harder beat.  Something about this version, perhaps the chimes, manages to keep the very innocent nature of the original song while making it over into something completely different. 
Treasure Fingers and The Knocks: 'My Body'
Treasure Fingers is no stranger to dancefloors across the world.  The Atlanta resident, born Ashley Jones,  has been crafting dancefloor anthems since he burst onto the scene with 2008's appropriately titled 'Cross the Dancefloor'.  This past spring he remixed The Knocks' collaboration with St. Lucia, 'Modern Hearts'.  Since then, he has teamed up with The Knocks yet again for a series of collaborations, the first of which is the house piano-laden jam 'My Body'.  The song is a pure club track and does the trick to get your feet moving and head bobbing. 
MORE NEW MUSIC, AFTER THE JUMP…
Holy Models: 'Swimming'
Off the heels of the new psychedelic Cut Copy track a few weeks back, newcomers Holy Models are also getting some attention with their new trippy tune 'Swimming'.  The Adelaide-based band describes themself as 'chill wave daytime disco' which can definitely be heard in this first single, with a sound very similar to that of another daytime disco band, Poolside.  The song was inspired by a bonfire turned spontaneous naked beach party in their hometown.  Their self-titled EP releases on August 26th from Eskimo Records. Tesla55's upbeat remix of the song is also worth checking out, and is available as a free download.
RAC: 'Let Go (featuring Kele & MNDR)'
RAC, short for Remix Artist Collective, are best known for remixing other artists work, including The Gossip, Chromeo, Lana del Rey and Bloc Party.  Last summer they released their first original song featuring vocals from Penguin Prison, 'Hollywood', on Mountain Dew's Green Label Sound.  A year later, they're back with another original work, this time featuring vocals from Kele, the lead singer of Bloc Party, and MNDR, who has been featured on Mark Ronson and the Business' 'Bang Bang Bang' and 'Record Collection (Remix)'.  'Let Go' comes at an interesting time, as summer slips away and we're not quite ready to "let go" of these warm weather months.  The song's breezy vibe certainly isn't helping with that either.
We are on Spotify!  Subscribe to our 'As Featured on Towleroad' Playlist to listen to tracks posted from past weeks.
For more information on OXD, check out our website and accompanying blog at www.occupythedisco.com, like us on Facebook, or follow us on Twitter: @OccupyTheDisco