Towleroad recently reported on Defense Secretary Chuck Hagel's announcement that it would extend benefits including housing and health care to the same-sex spouses of service members. However, rather than providing benefits to declared gay partners who are not married (which was in an earlier plan) the new plan would offer up to 10 days of leave to gay service members so they can travel to states where they may marry legally.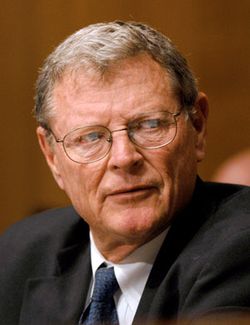 Senator James Inhofe (R-OK) is outraged, and sent an angry letter to Hagel demanding to know why straights are being discriminated against and questioned the legal authority of granting the benefit.
August 22, 2013
Dear Secretary Hagel:
I was very disappointed by the recent Department of Defense announcement that it intends to extend benefits to same-sex couples that are not equally afforded to opposite-sex couples.  I write this letter to express my great concern to policy issued on August 13, 2013, especially the intent to extend special uncharged leave benefits to same-sex partners and not to all military couples.  Further, I am unaware of any legal authority to grant uncharged leave to couples seeking to be married.
I appreciate that the Department is reevaluating its policies in light of the recent Supreme Court decision declaring section 3 of the Defense of Marriage Act unconstitutional.  However, the Department of Defense has failed to notify Congress of its intentions, and I remind the Department of its obligation to keep Congress advised as it relates to plans to modify rights and benefits of our armed forces.  It is necessary that the Senate must first consider the implication of such a policy before the Department of Defense implements a modification of Department of Defense Instruction 1327.06 "Leave and Liberty Policy and Procedures." 
Mr. Secretary, I firmly support the Department of Defense's stated commitment to ensuring that all men and women who serve our country and their families should be treated fairly and equally.  However, this change in policy will create disparate treatment between same-sex and opposite-sex couples in our armed forces contrary to the Department's stated policy.  I look forward to hearing from you on this important matter.
Sincerely,
James M. Inhofe
Ranking Member
Inhofe, who once proudly proclaimed on the Senate floor that his family never had a single gay in it, is behind a bill prohibiting gays from marrying on military bases, doesn't want them marching in uniform in Pride parades, opposed "Don't Ask, Don't Tell" repeal, has ties to anti-gay evangelism in Africa, and blasted gay marriage in a campaign ad, couldn't possibly be motivated by homophobia, could he?