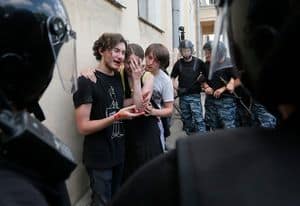 As news of persecution against LGBT people in Russia gets more and more chilling each day, Moscow-based New York Times correspondent David Herszenhorn begins his latest report with an unforgettable lede:
If this article were published in a newspaper based in Russia, it could be labeled 18+ — like an X-rated movie — and start with the following disclaimer: "This article contains information not suitable for readers younger than 18 years of age, according to Russian legislation."

Such warnings, put on any articles that discuss homosexuality or gay rights, are the result of a law nominally aimed at "protecting" children by banning "propaganda on nontraditional sexual relationships" but widely understood as an effort to suppress homosexuality and Russia's fledgling gay rights movement.
Herszenhorn's article focuses on the disturbing fallout of a law signed into law by President Vladimir Putin in June and the international backlash that has placed scrutiny on the Russian government's recent rightward turn–especially in light of the country's hosting of the 2014 Winter Olympic Games in Sochi.
What the new law means for the LGBT people who will visit the Black Sea resort city next year–be they athletes, government officials, journalists or simply tourists–remains a topic of fervent debate.  Officials with the International Olympic Committee have told reporters the organization has received assurances that visitors to Russia will not fall under the anti-LGBT law's restrictions, but the Russian Interior Minister yesterday announced that the law will indeed be in effect during the 2014 games.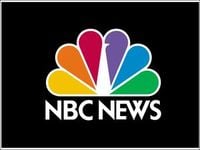 It's very difficult to guess what the ultimate outcome of these decidedly mixed signals may be.  NBC, which has the exclusive rights to broadcast the games, recently assured its LGBT employees that they would be safe during the network's coverage of the Sochi games.  Of course, how a private corporation might do so in defiance of a sovereign nation's laws is, at best, very difficult to determine.
As Herszenhorn notes, the 2014 Olympics is not the only international sporting event Russia would like to host, meaning the state is set for future conflicts surrounding the country's increasingly extremist politics:
Critics say Russia's repression of gay rights is part of a pattern that also includes a tightening of pressure on civil society groups, and steps to limit foreign influences — all seemingly out of sync with Russia's push to host international events, like the recently completed 2013 World University Games in Kazan and the international track and field championships now under way in Moscow.

Beyond Sochi, Russia will hold the World Cup in 2018 and is bidding for the World Expo in 2020. Asked if the gay rights issue might derail the bid, a spokeswoman for the deputy prime minister, Arkady Dvorkovich, noted that Russia was competing with Dubai, the United Arab Emirates, where homosexuality is illegal.
What company Russia is keeping.  Like Herszenhorn subtly points out, this is a question that goes beyond one country and one sporting event–it is a collision course between the increasingly tolerant West and countries where LGBT people are seen as criminals in the eyes of the law.