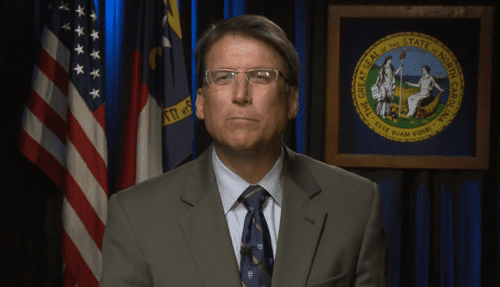 North Carolina Gov. Pat McCrory (R) signed into law yestarday a new voter ID law which, according to the Huffington Post, "requir[es] photo identification at the polls and eliminat[es] a slew of voting measures designed to protect against voter disenfranchisement." The new law, tentatively set to take effect in 2016, would require voters to provide photo ID such as a driver's license or passport, but does not accept others such as a student ID. This worsens fears held by the law's opponents, who argue that the law is designed to target and disenfranchise certain voter demographics. HuffPo goes on to report:
"The bill also reduces early voting by a week, eliminates same-day registration, ends pre-registration for 16- and 17-year-olds and a student civics program, kills an annual state-sponsored voter registration drive and lessens the amount of public reporting required for so-called dark money groups, also known as 501(c)(4)s."
Rather than conduct the traditional signing ceremony, Gov. McCrory opted to simply announce the newly-signed law via a YouTube video, which currently has all feedback features disabled.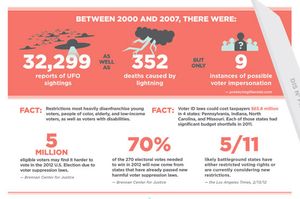 For those registered voters in North Carolina who currently lack the required forms of ID, anywhere between 203,351 and 318,643 as estimated, the state will be offereing a "free ID" that will be made available at DMVs. When asked why McCrory chose to back this new piece of legislation, despite the fact that voter fraud seems to be a highly rare occurrence, he responded by saying, in a Raleigh News and Observer op-ed:
"Even if the instances of misidentified people casting votes are low, that shouldn't prevent us from putting this non-burdensome safeguard in place. Just because you haven't been robbed doesn't mean you shouldn't lock your doors at night or when you're away from home."
This new law has already been challenged by the ACLU of North Carolina, as well as a coalition of others, by a lawsuit that was filed just hours after the new law was signed. The lawsuit charges that Gov. McCrory's new law violates the Constitution's equal protection clause and the Voting Rights Act of 1965. The North Carolina NAACP and Advancement Project filed a similar suit shortly therafter. It is worth noting, however, that a large portion of the Voting Rights Act was recently declared unconstitutional by the U.S. Supreme Court. Many analysts cite the SCOTUS' recent ruling as among the chief reasons why the bill was passed in the first place. 
The Huffington Post also added some more noteworthy and potentially troubling analysis:
"The bill has the potential to reduce turnout for key Democratic constituencies — minorities, the elderly and students — with the slew of new requirements, even beyond the new measures for identification. President Barack Obama narrowly won North Carolina in 2008 but lost it in 2012, and in 2016, the state is likely to be a battleground.

"The legislation, passed by the Republican-controlled legislature over the objections of Democrats before heading to McCrory's desk, is the latest of a string of conservative legislation signed into law in the state. McCrory has also signed measures introducing new restrictions for abortion clinics (attached to a motorcycle safety bill), expanding concealed-carry permits to bars and restaurants, and cutting unemployment benefits."
The NC Governor has also previously repealed a law that allows death row inmates to challenge their sentences based on allegations of racial bias. You can view his announcement AFTER THE JUMP. Since comments are disabled on the video itselg, feel free to leave one below instead.