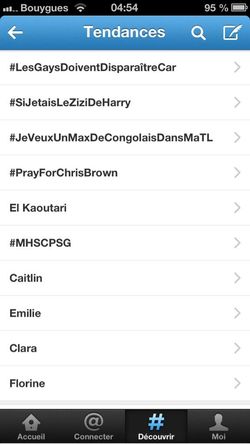 An anti-gay hashtag, roughly translated to "#GaysMust[Die/Disappear]Because", made its way to the top "trend" in France over the weekend. According to the entity behind the International Day Against Homophobia and Transphobia, or IDAHO, almost 10,000 tweets were posted using the fiercely homophobic hashtag, approximately 900 of which called directly for gay people to be murdered.
Such strong, troublesome, and widespread language has prompted IDAHO to file complaints in both France and California, calling for a removal of those and future offensive tweets. The group has also announced that it plans to file a second suit, which will call for the release of the user information of offending accounts to French authorities and ensure the proper investigation of the country's new anti-hate speech law. Alexandre Marcel of IDAHO told France's The Local that:
"This is a completely blatant call for the death and murder of gay people. It is totally unacceptable…Could you imagine being a 17 or 18-year-old gay person logging on to Twitter … and seeing messages that call for you to be killed?"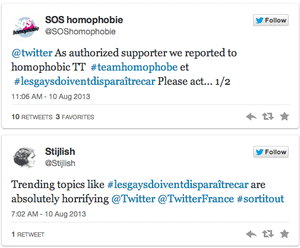 According to the English and French language editions of the Huffington Post, the above-named hashtag also gave way to many others like it shortly thereafter, including "#SiMonFilsEstGay (If My Son Is Gay), #TeamHomophobe and, most recently, #BrulonsLesGaysSurDu (Burn Gays On The)." Luckily, Twitter has already complied with requests similar to the ones filed by IDAHO, although the company has yet to comment on this most recent set of complaints. French LGBT rights advocates have also launched a counteroffensive campign on the microblogging site, flooding these and similar hashtags with as many pro-LGBT remarks as possible. 
Twitter, has a company, has repeatedly expressed a desire to encourage free speech with the fewest amount of interruptions possible. The company has adopted policies prohibiting "violent threats" as well as "targeted harassment", but not explicitly any form of hate speech. It is not yet clear if Twitter has complied with previous requests due to violation of their own policies, or due to some other sort of legal obligation. Thus far, Twitter has yet to take any similar action against the anti-gay hate speech being tweeted in the United States.