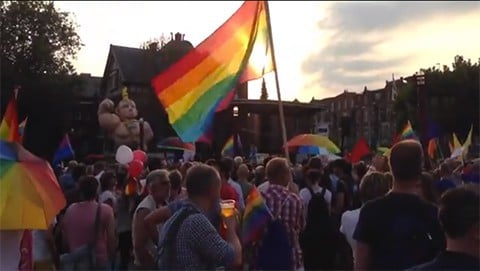 Over 2,000 protesters took to the streets of Amsterdam on Sunday to show their support for gay rights and to rebuke Russia's anti-gay laws and Russian President Vladimir Putin. The AP reports: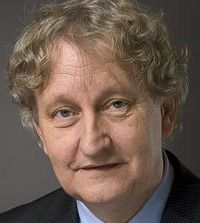 Amsterdam Mayor Eberhard van der Laan told the crowd he hoped the protest would send the message to Moscow that "love is not propaganda."
Afterward in an interview with The Associated Press, he said the city "is proud of its homosexual community and they have the right to support from government" — not persecution. Amsterdam has a long history of tolerance of gay rights, including performing the first gay marriages in 2001 […]
Sunday's protest, titled "To Russia With Love," was organized in response to a concert featuring a Russian state orchestra and choir that was held on the far side of the square later in the evening. The two countries have named 2013 as a special year to celebrate historical ties.
But Van der Laan declined to meet with Putin when he visited the Netherlands in March, sending lesbian councilwoman Carolien Gehrels in his place and flying a rainbow flag over city hall.
Organizer Frank van Dalen of Pride United said he was thrilled with the turnout for Sunday's demonstration, which was put together in a matter of days — word spread quickly on social media.
"It shows that people are incredibly angry" about Russian treatment of gays, he said. "Not only gays and lesbians, but heterosexuals have come out to support them, and transgender and bisexual — this is something that concerns everyone."
Back in April, over 3,000 people in Amsterdam signed up for a protest of Russian President Vladimir Putin's visit to the Dutch capital because of his support for the then-proposed anti-gay law which was ultimately passed and went into effect in June. Rainbow flags were flown all across the city, some at half-mast and some strategically placed to guarantee that President Putin would see them during his stay in Amsterdam.
Sunday's protests in Museum Square come on the heels of last week's protests in Copenghagen that saw over 10,000 people take to the streets to condemn Putin and his country's anti-gay laws. Last week also saw gay rights supporters coming up with other inventive ways to protest the criminalization of gay rights in Russia.
Watch as Dutch protesters sing along to a rendition of "To Russia With Love" AFTER THE JUMP…