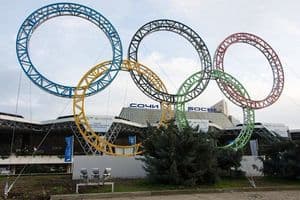 Earlier this week, it was circulated that the IOC intends to crack down on any expressions of solidarity or advocacy regarding LGBT rights in Russia. The committee claims that they are not aligning themselves with the Russian government. Rather, they say that any sort of "demonstration of political, religious or racial propaganda" runs contrary to the regulations and spirit of the Olympic Games. This decision is partially due to the fact that, currently, the Olympic Charter only forbids discrimination on the basis of race, religion, politics and gender. 
United for Equality in Sports & Entertainment (UESE), as well as their international partners at Pride House, want to change that, by urging the IOC and its president, Jacques Rogge, to update the Olympic Charter to add "sexual orientation" and "gender identity" to that list, effectively protecting LGBT athletes, coaches, officials, press, and spectators from the hostile environment they will be facing in Sochi this upcoming February.  David McFarland, Founder & CEO of UESE, had this to say in the group's press release:
"While today's request to include sexual orientation and gender identity in the Olympic Charter remains vital to sport and the founding principals of the Olympic movement, the message of acceptance and diversity must be heard louder then ever from the IOC and leaders throughout the world for our athletes and Russian brothers and sisters."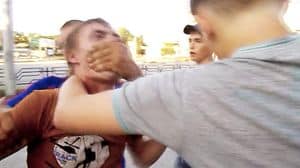 Apparently, president Rogge of the IOC agrees with this sentiment, previously stating, during a meeting that took place in Moscow on August 9th, that "The Olympic charter is clear. A sport is a human right and it should be available to all, regardless of race, sex or sexual orientation." Unfortunately, Rogge's remarks don't have the potential to affect much change if the charter does not reflect them. 
"Additionally, UESE and its partner organizations support the idea that the IOC should consider a country's human rights record and laws when allowing nation's to bid as a host city. UESE proposed to the IOC that countries that discriminate against persons on the basis of sexual orientation or gender identity, or any other criteria, should not be qualified to bid for or host Olympic Games.
 
"Lastly, UESE and its partners requested that the IOC should require the presence of a community-based Pride House at all Olympic Games to foster the above goals and encourage dialogue and exchange on issues of discrimination and visibility for LGBT athletes and the LGBT sport movement."
UESE states in their release that "new program and strategy initiatives" are currently in the works, and that the group will be announcing them some time in the coming weeks. Already, Pride House has announced a "Same Sex Hand Holding Initiative", which encourages all Olympic participants, regardless of their orientation or identity, to hold hands with as many mambers of the same sex as possible.