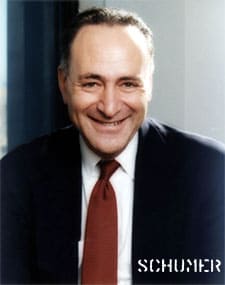 Last week, Democratic U.S. Sen. Chuck Schumer publicly ridiculed Russian president Vladimir Putin over his support of the country's recent anti-gay legislation, calling him a "schoolyard bully". RiaNovosti reports that, yesterday, during an episode of MSNBC's Morning Joe, Schumer expanded on his critical remarks, and called for LGBT athletes participating in the 2014 Winter Olympic Games in Sochi to wave rainbow flags:
"When we march initially, all the countries should wave the multicolored flag for gay rights. That would be pretty embarrassing for Putin, let our athletes participate and still take a stand."
Schumer's words sought to address questions as to whether the United States or the International Olympic Commission should boycott Russia for any upcoming games, including the ones scheduled for 2014. "All these athletes train for so long," he said, adding that, "standing up to Putin right now is important because he's a bully." 
"He resents being an old KGB guy, being brought up when the Soviet Union and the US went head to head…He resents that Russia is no longer the major power in the world that it used to be. Its population, of course, with all the states – Ukraine, all the Baltic states, the east Asian states gone — they're no longer a big power."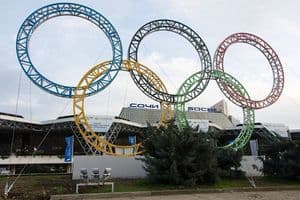 The Democratic Senator has a previous record of supporting LGBT rights. However accurate, promising, or potentially inspiring his remarks may be, it is still worth noting that the Russian Interior Ministry has stated that the country's anti-gay "propaganda" law will be enforced during the games. Both the IOC and US government have announced that they are working towards a solution that will protect LGBT athletes, coaches, and spectators attending the games. No word has yet been released as to how successful these entities have been as of late. 
The White House has previously announced that it will be boycotting a summit meeting being held by Putin next month in Moscow. Unfortunately, this boycott surrounds Russia's refusal to hand over controversial whistleblower Edward Snowden, according to RiaNovosti. This boycott should certainly prove disheartening to anyone hoping that Putin and President Obama will be able to reach any sort of viable compromise in the near future.