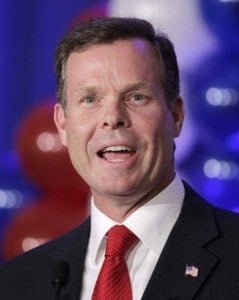 This past June, three same-sex couples filed suit against the state of Utah, challenging its ban on marriage equality. Now, approximately a month and a half later, governor Gary Herbert and state attorney general John Swallow have issued their response, and not surprisingly, the two maintain that the state has a "sovereign right" to define and recognize marriages as it sees fit. What might prove surprising, though, is the fact that the brief seems to deny the existence of LGBT discrimination altogether. 
In the original lawsuit brought before the state, lawyers for the three couples asserted that "gay and lesbian individuals have faced a long and painful history of societal and government-sponsored discrimination in this country."  In the response, Swallow addresses this claim directly, stating that state officials are "without sufficient knowledge to admit or deny the allegations." He also asserts that, while "marriage between a man and a woman is a constitutionally protected fundamental right," banning same sex marriage does not discriminate against LGBT people, since they could just as easily decide to get married to someone of the opposite sex and enjoy all of the rights and priveleges that they were previously denied: 
"State Defendants affirmatively state that same-sex marriage has never been recognized in Utah. State Defendants admit that Utah law and its constitution define marriage as the legal union between a man and a woman and do not recognize same-sex marriages, among other types of marriages, performed in Utah or other jurisdictions. State Defendants admit that unmarried couples or groups of any kind—heterosexual, homosexual, polygamous, etc.—are not granted certain rights afforded married couples. Utah law, however, does not 'impair any contract or other rights, benefits, or duties that are enforceable' independently of being married. […]

"Utah law prevents neither homosexuals nor lesbians from marrying. Homosexuals and lesbians may marry in Utah, but they face the same restriction heterosexuals do – they may not marry a person of the same sex. This restriction is not gender based – it applies equally to both males and females."
The above excerpt comes to us via ThinkProgress.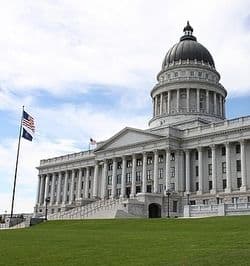 Forgetting the fact that Swallow could almost certainly find all the necessary evidence to remedy his willful ignorance on the web, officials from Utah Pride Center have nevertheless offered to help. According to Salt Lake Tribune, members such as Valerie Larabee, executive director, and Nikki Boyer, board president, took it upon themselves to deliver "copies of the Constitution and a related legal brief from the center to the offices of Gov. Gary Herbert and Attorney General John Swallow on Tuesday." Larabee also commented on Swallow's selective ignorance to the Tribune, referencing the many anti-LGBT hate crimes that have taken place in the state. "This response could be characterized as shockingly incompetent, especially for them not to know about Utah's laws since they have the responsibility to execute and enforce these laws," she said.