The NBA's first openly gay athlete Jason Collins won't be playing for the Detroit Pistons, after talks opened earlier this month did not result in a contract, Sports Illustrated reports: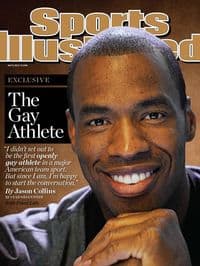 Collins was being considered by the Pistons as for insurance for young big men Andre Drummond and Greg Monroe. The team finished last season 11th in the Eastern Conference with a 29-53 record that cost coach Lawrence Frank his job. Pistons president of basketball operations Joe Dumars replaced Frank with Maurice Cheeks,added top-tier free-agent forward Josh Smith, brought back guard Chauncey Billups, and agreed to acquire point guard Brandon Jennings from the Milwaukee Bucks in a sign-and-trade deal for point guard Brandon Knight, forward Khris Middleton and center Slava Kravtsov. Collins would have taken Kravtsov's spot on the roster.
Collins recently worked out with the team in hopes of joining the roster as a reserve.
Think Progress' Travis Waldron wonders about his chances of finding a team:
The process of finding a team was never going to be fast or easy for Collins, not because of his sexuality but because he's Jason Collins. He is, as previously mentioned, a 34-year-old journeyman center whose value doesn't show up on a stat sheet. He's averaged just 3.6 points and 3.8 rebounds over his 12-year career, during which he's played for six teams. His basic stats were even less impressive in 2012-2013, when he averaged 1.1 points and 1.6 rebounds while playing 10 minutes a game for Boston and then Washington.