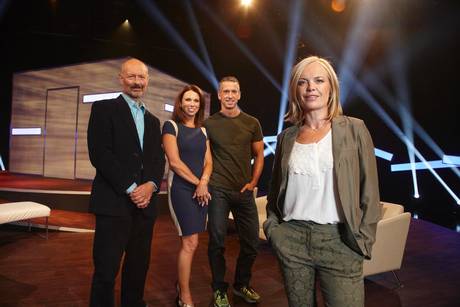 Channel 4, a cable network out of England, is sure to receive strong viewership numbers with its new program called "Sex Box." Part of the oft-scandalous channel's Campaign for Real Sex season, "Sex Box" is an interview-style program in which couples have intercourse in an opaque cube on a soundstage, then discuss sexuality with a panel directly afterward. A gay male couple, John and Matt, will be among the show's participating three couples.  
The Guardian reports:
A sound-proofed box in a television studio may not be a dream romantic setting, but then most lovers would probably not leap out of bed for a postcoital interview with Mariella Frostrup. Yet this is the format of a new Channel 4 programme that aims to "reclaim sex from pornography" by delving between the sheets of British people.
…
"I approached it with great trepidation and a degree of scepticism, particularly about why we needed a box, but ultimately I think it was a really really mature – surprisingly for television – look at a subject we've allowed to proliferate in its worst manifestations and refuse to confront," she [Frostrup] said.
The show shys away from the gratuitous sexuality so often employed to unsuccessful character-building effect in film and television, instead aiming for a still-sexy exploration of what sexuality means for the real couples. 
Channel 4's head of factual programming, Ralph Lee, said there was "nothing salacious" about the show and that "strangely it's quite a chaste programme – there's no sex in it".
"The explosion of online pornography is one of the stories of our time and this absolutely intends to be an open, adult, quite deep conversation about sex," he said. "The experts we have are not flippant people. That said, there is a levity to the conversation. It's not a massive furrowed-brow type conversation because there's something mischievous when you watch it. We're confident there's a sincere motive behind it."
Channel 4's other Campaign for Real Sex season programming include kick-off documentary "Porn on the Teenage Brain," airing September 30th, as well as a doc about the female pursuit of better sex, called "The Week the Women Came." Another reality program titled "Date My Porn Star" unites three porn fans with their favorite celebs. 
Image courtesy of The Independent.