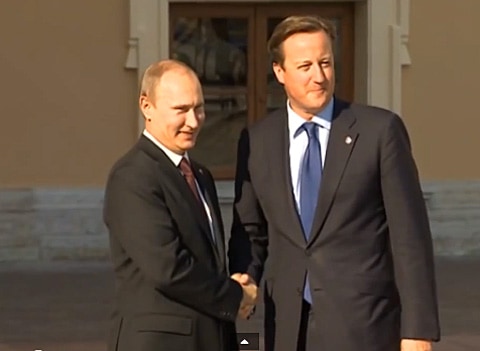 UK Prime Minister David Cameron tweeted last night that he had a conversation with Russian President Vladimir Putin about gay rights at a meeting at the G20 summit.
Tweeted Cameron: "2am meeting with President Putin. A candid conversation on #Syria. I also raised concerns about gay rights."
It had been reported that Cameron would bring up the issue.
President Obama, while not meeting with Putin, is scheduled to meet with Civil Society groups, and LGBT groups, Friday evening, according to guidance provided to Towleroad by the White House.
Yesterday, the White House made clear that "in particular" Obama was interested in meeting with the LGBT representatives.
Said Deputy National Security Advisor for Strategic Communications Ben Rhodes: "Given our serious concerns with some of the recent laws that have been passed and restrictions on activity for gays and lesbians within Russia, we felt it was important to ensure that we were including their voices in a discussion with the President."