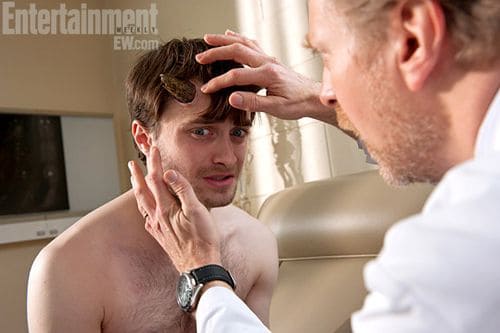 Two Daniel Radcliffe items in one post. First, some new shots are available from Horns, which premieres at the Toronto Film Festival tomorrow (we already saw one shot almost a year ago).
Writes EW, where you can find two more stills:
In Horns, a supernatural mystery that premieres tomorrow at the Toronto Film Festival, Radcliffe plays Ig, a small-time guy who's suspected of brutally murdering his longtime girlfriend (Juno Temple). The town seems to have made up its mind about his guilt, especially when he begins to sprout devilish horns while the police investigate the crime. Before long, though, Ig notices that his frightful horns seem to have one beneficial side-effect: people around him suddenly seem compelled to tell him the truth, the horrible truth that they've never told anyone else. Just maybe, those horns of his will help him find out who really committed the murder.
There's also yet another trailer (this, the official domestic) for the film Kill Your Darlings, in which Radcliffe plays the young beat poet Allen Ginsberg. The film opens in limited release on October 18.
Check that out, AFTER THE JUMP…