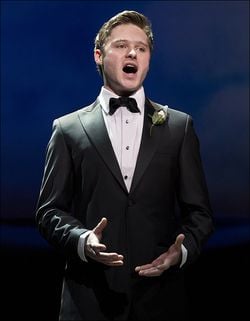 According to a Towleroad tipster, a new profile in OUT magazine for the soon-to-open musical Big Fish is the first time Broadway star Bobby Steggert has spoken about his sexuality publicly:
Based on Daniel Wallace's Odyssey-inspired 1998 book, which was given
the big-screen treatment by Tim Burton in 2003, the Southern Gothic
fantasy centers on the strained relationship between tall-tale–telling
Edward Bloom (Tony winner Norbert Leo Butz) and Will (Steggert), his
frustrated, grown-up son who's determined to uncover the truth of his
father's past. With direction and choreography by Susan Stroman, a score
by Andrew Lippa, and myriad eye-popping visuals, this version mixes
fairytale with existentialism, and has all the trappings of a hit.
The
role also marks Steggert's most mature, complex portrayal to date. Up
until his turn as a gay dad in Mothers and Sons—"I think it's a gay
actor's responsibility to give full-blooded life to gay characters"—the
32-year-old actor spent years starring in coming-of-age stories. He
played a conflicted gay soldier in the Off-Broadway World War II musical
Yank! and earned a Tony nom for his performance in the 2009 revival of
McNally's Ragtime. His work in the latter actually inspired the
four-time Tony-winning scribe to write a role for him in Mothers. "Now
I'm playing men dealing with adult issues," Steggert says.
While
we've seen plenty of profiles of Steggert for his gay roles, none of
them mentioned his own sexuality. If he's already out, then hooray! Blame our goof on this new nonchalant trend of breaking it to the world.