Canadian Olympic speed skater Anastasia Bucsis has come out publicly in response to Russia's anti-gay laws and the controversy surrounding the 2014 Winter Games in Sochi, the Globe and Mail reports: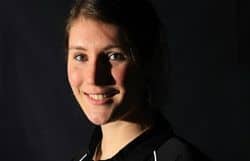 Ms. Bucsis had told her family and close friends two years ago that she is gay, but she decided to make a public statement this weekend at Calgary's Pride parade to underscore her opposition to Russia's law, tweeting and and talking to The Globe and Mail about "being so proud to be gay."
"I could never promote that message of concealing who you are with all of this going on in Russia. I'm kind of happy that I did it on my own terms," said Ms. Bucsis, who is hoping to qualify for Sochi in long-track speed skating. She's on track to make the cut: Not only did the 24-year-old compete for Canada in the 2010 Vancouver Games, she is on the national team and has set personal bests this year.
Bucsis says athletes must speak out so young LGBT adults know they're not alone.
Bucsis joins Australian snowboarder Belle Brockhoff, who also came out last month to make a statement about Sochi.