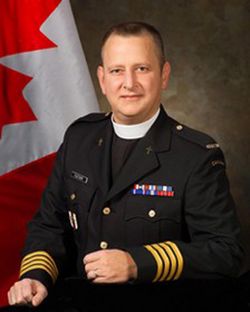 Brig.-Gen. John Fletcher, a gay priest and "career military man," is the new Chaplain General of the Canadian military. 
"I equally understand that some people will be excited and encouraged by the openness of my own church, to allow me to exercise this ministry and certainly encouraged that I'm free to work within a Canadian military that simply doesn't discriminate on (the basis of) these things," the Toronto Star reported him as saying. 
Fletcher came out in 1992, shortly after a ruling that eliminated the Canadian military's ban on gays. 
From The Star:
Currently, the military doesn't have a specific policy regarding gay or lesbian personnel, said Capt. Matt Zalot, chief of military personnel public affairs, in an email.
…
Fletcher, who has been with his partner for 16 years, pointed out that 50 years ago there were no public, homosexual role models. Now, the Ottawa-based priest lives in a province where the sitting premier, Kathleen Wynne, is also Canada's first openly gay premier.
"I see (my situation) as just another example of that same sort of trend that we as Canadians should celebrate and embrace," he said, adding that we should "continue to look at the barriers that might be elsewhere that are keeping people from pursuing vocations they are qualified, or feeling called to go and do."