In a wide-ranging interview with Macleans, Cher reveals that she got an invitation to perform in Russia at the Sochi Games and turned it down: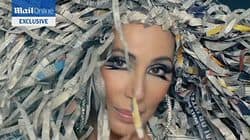 I can't name names but my friend called who is a big oligarch over there, and asked me if I'd like to be an ambassador for the Olympics and open the show. I immediately said no. I want to know why all of this gay hate just exploded over there. He said the Russian people don't feel the way the government does.
She adds that she relates to people on the fringes because of the way she and Sonny Bono were treated:
 People hated Sonny and I in the early days because we looked and acted so different. Sonny was always getting into fights—people would called him "fag" and he'd get his nose broken—only because we were dressing different. And these were our street clothes! You can't forget that. We tried getting on TV but the backlash against the networks was so bad, they wouldn't invite us back.
Read the whole interview at Macleans…