The role of Freddie Mercury in a biopic once attached to Sacha Baron Cohen is Daniel Radcliffe's is he wants it, according to UK tabloid The Daily Star: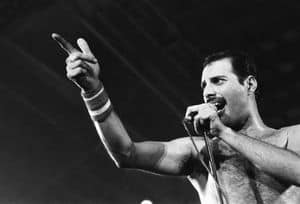 Borat star Sacha Baron Cohen, 41, quit the biopic project this summer following clashes over the script with band members Brian May, 66, and Roger Taylor, 64.
But now producers are keen to bag Radcliffe, 24, and are prepared to offer him big money to tempt him to play the gay singer, whose string of hits included camp rock anthem I Want To Break Free.
If he takes the part, Hollywood insiders predict it will be the actor's biggest pay day since he played Harry Potter in the successful movies.
"Plus, he's closer in height to Freddie than Sacha, who's much taller. Daniel can really sing, too."
The tabloid also claims that producers are impressed with Radcliffe's Kill Your Darlings performance as gay beat poet Allen Ginsberg, and say that Baren Cohen dropped out because the characterization of Mercury wasn't flamboyant enough in the script for him.