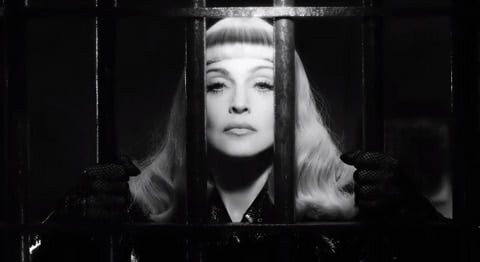 Madonna's #SecretProject that she has been tweeting and Instagramming and YouTubeing about for months now is a short film collaboration with Vice Media and BitTorrent intended to facilitate free speech around the world.  The film is being released as a BitTorrent bundle, according to The Hollywood Reporter:
secretprojectrevolution is a 17-minute film she co-directed with Steven Klein that will be released on Sept. 24. It will debut in conjunction with the launch of a digital initiative called Art for Freedom, that will encourage others to submit video, music, poetry and photography that addresses persecution around the world and the personal meaning of freedom and revolution.
"My goal is to show by the example of secretprojectrevolution my creative commitment to inspire change in the world through artistic expression," Madonna said in a statement. "I hope my film and other submissions to Art For Freedom will be a call-to-action and give people a place to voice their own creative expression to help fight oppression, intolerance and complacency."
BitTorrent is trying to show it is not about piracy and says that the new 'Bundles' business model allows commerce to be "baked in" to the content 'Bundle', and fans will "have an opportunity to connect directly back to the publisher."
The project, which is set to premiere on September 24, will also be broadcast via Vice's The Creators Project.