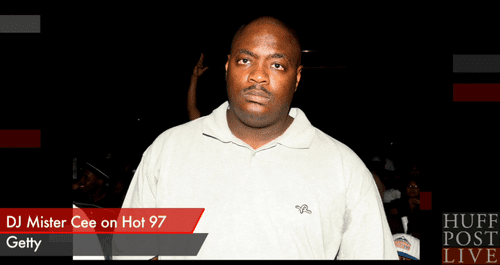 DJ Mister Cee, the famed hip hop producer and DJ from NYC's Hot 97 radio station, was caught last week in another scandal involving the solicitation of a trans sex worker. Audio of the encounter was released, causing Cee to initially resign his position at the station, saying, "I'm being honest, I'm talking about who I am and what I am, and so I gotta deal with that first before I can get to the bridge that I know that I love which is being on this radio."
Mister Cee eventually rescinded his resignation, and, in the process of his whole ordeal, prompted an important conversation where the issues of sexuality, gender, race, and hip hop converge.
One of the best analyses of the Cee story was on HuffPostLive with transgender activist and Orange is the New Black actress Laverne Cox, writer and transgender activist Janet Mock, The Nation's Mychel Denzel Smith, and professor of black popular culture Mark Anthony Neal. The conversation started with these words from host Marc Lamont Hill:
"I want to be really clear with all of you watching this in the HuffPost community and beyond. I want to talk about what we're not going to to. This is not going to be a conversation about Mister Cee, per se. I don't really want to dig into the muck and mire of his personal life or get into the rumourmill or the scandal—there's plenty of places for that. What I think we want to do is have a smarter and more important conversation about what it all means. I'm less interested in talking about Mister Cee and more interested in talking about how we're talking about Mister Cee."
From there the conversation became one of the healthiest examples of how the media should and can discuss complex and uncomfortable issues surounding sexuality. It is a must-watch for anyone who has read this far into the post. 
Watch the HuffPostLive commentators' superb analysis and listen to DJ Mister Cee discuss his ordeal, AFTER THE JUMP…