Yesterday, an interview of Pope Francis was published by America magazine in which he advised the Catholic church to end its small-minded obsession with same-sex marriage and abortion, and said that the church cannot "interfere spiritually in the life of a person."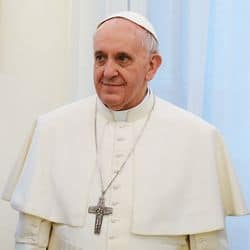 The Pope's comments appeared to be directed at folks like NYC's Cardinal Dolan, who in recent years has been utterly obsessed with just those issues.
As our reporter Sean Mandell wrote a few months ago, "Dolan, who claims to not be "anti-anybody", has equated same-sex marriage to incest, denied LGBT Catholics entry to mass, and insisted LGBT individuals are entitled to friendship, not marriage.  Last year he vehemently opposed same-sex marriage legislation in New York state, calling it a "communist threat" and has since complained that he felt burned by lawmakers."
In May Dolan issued a memo to LGBT Catholics urging them to "pray, fast, and sacrifice" over the Supreme Court's upcoming decisions on marriage. Can it be argued that this man is not obsessed with "interfering spiritually" in the lives of gay people?
Yet Dolan was a bucket of smiles in a pre-dawn interview with CBS New York about the Pope's statements yesterday.
Said Dolan: "This man is batting a thousand. We wanted a man who had a heart, we wanted a man who could teach like Jesus, we wanted a man who could get us back to the essentials of the church. He's a good teacher, he wants to shake us up. He's daring, he's fresh, he's innovative."
Dolan appears to be throwing up a smoke screen because he doesn't want people to realize the Pope is actually directing his comments at anti-gay bigots like him.
Watch the interview, AFTER THE JUMP…
Michelangelo Signorile was spot on in a piece yesterday when he wrote:
And in saying "I have never been a right-winger" in the same interview in which he's criticizing the church for being too "obsessed" with gay marriage and abortion, Francis is hitting at those Catholic leaders who use gay rights and abortion to wield political power, putting them on notice. Again, his comments don't change the church's doctrine, but they do a lot to change its focus. That can only be seen as a huge shift.