Elton John gives a wide-ranging interview to The Guardian, and says he's going to play Moscow in December: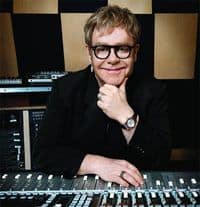 He wants to make another album with the same producer, T-Bone Burnett, which leads him to talk about his other unfulfilled ambitions. He's always wanted to play in front of the Pyramids of Giza, "but they banned me from going there a couple of years ago because I'm gay". It wasn't the first time his sexuality proved an issue: a church in Tobago organised a protest against his appearance there, while he received threats from an Islamic group when he played in Morocco.
"I'm supposed to be going to Moscow in December," he says. "I've got to go. And I've got to think about what I'm going to say very carefully. There's two avenues of thought: do you stop everyone going, ban all the artists coming in from Russia? But then you're really leaving the men and women who are gay and suffering under the anti-gay laws in an isolated situation. As a gay man, I can't leave those people on their own without going over there and supporting them. I don't know what's going to happen, but I've got to go."