Ethan Coen's Women or
Nothing, about a lesbian couple taking creative measures to have a baby,
opened Off-Broadway last week in a world premiere directed by David Cromer at
Atlantic Theatre Company. Best known as one half of acclaimed filmmaking duo
the Coen brothers, Mr. Coen has previously written three evenings of one-act
plays (also produced at the Atlantic), but Women
or Nothing marks the playwright's full-length debut.
When the play opens, sunny, madcap Gretchen (Halley Feiffer)
is working hard to convince her more earnest partner Laura (Susan Pourfar) that
staging a one-night stand with Gretchen's co-worker Chuck (Robert Beitzel) is a
far more desirable (and sensible) alternative to artificial insemination. After
all, Chuck is a great guy—and she has even met his daughter (the proof is in the
'genetic pudding!').
As the only one of them who can conceive, Laura is not so
sure about using a man for his semen. What about his dignity? And anyway, how
would it even work? Besides that, she's a 'gold star' lesbian who's never been
with a man. But Gretchen has already arranged for Chuck to come over and
written the script accordingly for him to find Laura alone.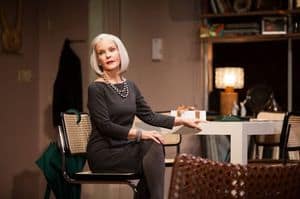 Though surely harebrained—and without a single mention of
contraception—the play's premise is simple enough. Coen's fine hand at
rendering distinct characters and laying them bare within a few lines of witty,
high-minded dialogue elevates the schematic plot into a modestly thought-provoking
story about identity and intimacy.
Pourfar's intricate, compelling performance as Laura anchors
the play's exploration of psyche and sexuality. In her implausibly profound
blind date seduction scene with Beitzel's Chuck, Pourfar handles Coen's
quasi-heavy-handed lesson in Freud 101 with grounded subtlety. Beitzel nails
the lucid charm around which the plot ultimately turns.
Deborah Rush is comic gold (make that platinum) as Laura's
mother Dorene, who arrives at the couple's apartment the next morning with a discerning
eye and mother's curiosity. An impeccably stylish, upper-crust libertine,
Rush's Dorene is also something of a pop philosopher, delivering Coen's most delectable
food for thought.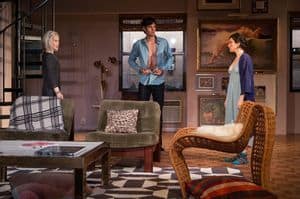 With far more language than action, Women or Nothing is more of a hybrid between the one-act form Coen
is used to and something more substantial. While he excels at crafting
memorable characters that speak in their own unique rhythms, the play feels
like an incomplete exercise—and not because of the many uncertainties Coen
leaves open ended.
Unlike Laura, Gretchen embodies a single-mindedness that
while entertaining, drives home a potentially troubling idea that underlies Women or Nothing and drives much of its
comedy—that women use sex to get what they want. It's not uncommon fodder for a
sex farce, but as Coen is attempting something more (or at least different), it's
here that the play feels most unfinished. 
Recent theatre features…
 New Musical 'First Date' Opens on Broadway: REVIEW
'Harbor' with Randy Harrison Opens Off Broadway: REVIEW
 'A Kid Like Jake' Opens Off Broadway at LCT3: REVIEW
2013 Tony Awards Round-Up: Drag Queens, Pioneer Women, and Mike Tyson
'Far From Heaven' Opens Off Broadway: REVIEW

Follow Naveen Kumar on Twitter: @Mr_NaveenKumar (photos:kevin thomas garcia)