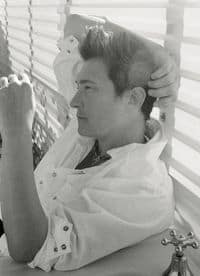 Grammy Award-winning artist kd lang has announced she will be making her Broadway debut next year in the jazz musical After Midnight. Lang will be replacing American Idol winner Fantasia Barrino as the second guest headliner for the show, which centers around Duke Ellington's years at the famous Cotton Club nightclub in Harlem. Lang's limited engagement performance will begin February 11th and continue through March 9th.
Here's the Playbill summary for After Midnight: 
"Jazz is a state of mind. It's a structure for innovation, forward momentum and freedom. The evocative new musical After Midnight will take the sexy, smoke glamour of the original Jazz Age and catapult it into a whole new era of heart-pounding, mind-blowing entertainment for modern Broadway audiences. Refracted through a contemporary lens, After Midnight will celebrate Duke Ellington's years at the Cotton Club using his original arrangements and performed by a world-class big band of 17 musicians hand-picked by living jazz legend, Wynton Marsalis. The timeless tunes set against a narrative of Langston Hughes poetry will provide an authentic backdrop for an array of cutting-edge performances by 25 sensational vocalists and dancers, including special guest stars, whose interpretations will shatter everything you think you know about music, nightlife and Broadway. Welcome to the new Jazz Age."
With pop, folk, country, and torch songs under her belt, its no surprise that the talented lang is now cutting her teeth on jazz. Tickets for lang's engagement will go on sale November 4th and can be purchased here.
You can also join us AFTER THE JUMP for additional footage of lang's great performances and songs of the past.