Arron Keahey, a 24-year-old gay man from Springtown in north Texas, was brutally beaten over Labor Day weekend after meeting a stranger using the social networking app MeetMe. Eighteen-year-old Brice Johnson has been arrested and charged with aggravated assault, causing serious bodily injury.
T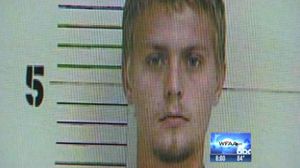 he attack is being investigated as a possible hate crime, KENS5 reports:
Keahey, 24, said his first contact with the 18-year-old suspect was on a phone app called MeetMe. Keahey said he went over to the teen's house about an hour later.
The Labor Day attack left Keahey with broken facial bones that required plastic surgery. He also suffered nerve damage and had some teeth knocked out.
Keahey is gay, and said he went to the teen's house in Springtown thinking he was either gay or bisexual. He said the ambush happened immediately.
"He started getting all frustrated and talking all angrily," Keahey said. "I don't remember anything after that."
Police said they received a 911 call from 18-year-old Brice Johnson, who told officers he found Keahey outside his house in the trunk of a car. Johnson said he drove Keahey to get medical help.
Neither Keahey and Johnson can recall much about the details of the attack, police say, though Keahey says it was a hate crime:
"Why would they have you under the belief that they're gay or bisexual or whatever they say you are, and have them show up and do what they did?"
Watch the KENS5 report, AFTER THE JUMP…