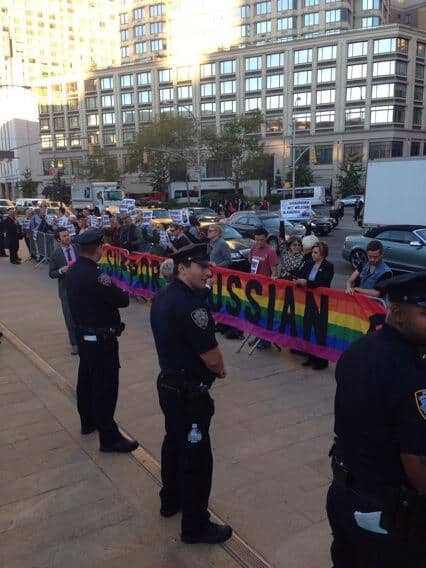 (image roy klabin twitter)
Activists from Queer Nation NY protested outside the New York Metropolitan Opera's opening night gala performance of Tchaikovsky's Eugene Onegin tonight and delayed the beginning of the performance with a disruption.
Queer Nation reports, via press release:
The Queer Nation NY members unfurled a rainbow flag chanted "Putin, Stop, End Your War on Russian Gays!" and "Anna, Your Silence is Killing Russian Gays! Valery, Your Silence is Killing Russian Gays!" just before the opera began, delaying the start of the performance. Russian conductor Valery Gergiev and soprano Anna Netrebko, who appeared in the Gala production of Eugene Onegin, which was written by the gay composer Peter Tchaikovsky, are longtime and vocal supporters of Vladimir Putin, Russia's president.

The disruption was met by a flurry of boos and a hearty round of applause. The protestors were led peacefully out of the opera house. There were no arrests. Earlier in the evening, Queer Nation NY protested outside of the opera house. Carrying rainbow flags and placards, the group attracted attention from the arriving audience as well as the media there to cover the Gala.
The NYT reports:
The outburst in the opera house capped an evening of picketing outside it, as opera patrons in black tie and ball gowns were met with chanting protesters and a 50-foot rainbow banner that said "Support Russian Gays!"
The seeds for the protests on Monday night were planted when Andrew Rudin, a composer who is gay, started an online petition urging the Met to dedicate the performance to gay rights in Russia. The petition, which has been signed by more than 9,000 people, noted that Tchaikovsky, a gay Russian composer, was being performed by artists who supported a Russian government that had passed antigay laws.
"Here's a chance for the Met, in an entirely benign and positive way, to use its great cultural influence to be relevant, and to do something positive," Mr. Rudin said in an interview on Monday.
Peter Gelb, the general manager of the Met, wrote an article for Bloomberg news over the weekend explaining why The Met refused to make a statement:
Throughout its distinguished 129-year history, the Met has never dedicated a single performance to a political or social cause, no matter how important or just. Our messaging has always been through art.
However, we're engaged when it comes to social advocacy inside the Met. Through the choice of our LGBT (lesbian, gay, bisexual, and transgender) rainbow of artists and staff, the Met has long been at the forefront of championing sexual and social equality within our company.
We leave it to our artists to integrate their own ideas about society and politics into the work they create for our stage.
We respect the right of activists to picket our opening night and we realize that we've provided them with a platform to further raise awareness about serious human rights issues abroad.
Read his full statement here.